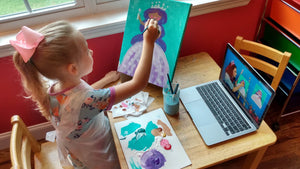 5 Reasons Why

Kids and Parents Love

Painting To Gogh
1. 
Easy-to-Follow Tutorials Taught by Experienced Instructors
Our acrylic painting kit includes guided video instructions from experienced kids art instructors that are easy to follow, even for beginners. Children can learn different painting techniques and create beautiful art without feeling overwhelmed or frustrated. The clear and concise instructions make it easy for kids to explore their creativity and express themselves through art.
SHOP NOW
2.
Easy-to-Use Supplies
Our acrylic painting kit includes high-quality supplies that are easy to use, even for kids with little painting experience. The paintbrushes are designed to be comfortable for small hands, and the acrylic paint is easy to manipulate and blend. With our kit, children can focus on creating art and having fun without worrying about complicated supplies.
See What Our Customers Have to Say!
Our average rating is ★★★★★ based on 4269 reviews
★★★★★

"Special Time with the kids!"

"I bought Retro robot for my 7 year old. The quality of the paint, brushes, and canvas was above expectations! I strongly recommend this product to get some quality time with your kids!"

Korynn H.
★★★★★

"Best purchase ever!"

"My daughter just turned 6. She had such a wonderful experience. She is very proud of her paintings. The activity kept her busy for hours. Great quality materials. Great videos."

Olhae C.
★★★★★

"Perfect for homeschool"

"I'm a homeschool momma and this is perfect for my 9 year old to learn to paint. It was easy enough for her to follow along and gave her confidence since she doesn't have experience."

Courtney C.
SEE ALL 4269 REVIEWS
3.
Promotes Creativity
Our art instructors provide instruction, but also encourage kids to express their creative personality. They can experiment with their colors and style choices to create unique paintings that reflect their personality and interests.
SHOP NOW
4.
Builds Confidence
Our acrylic painting kit is designed to be fun and rewarding, which can help boost a child's confidence. As children learn new techniques and create beautiful paintings, they gain a sense of accomplishment and pride in their work. This can have a positive impact on their self-esteem and encourage them to keep exploring their artistic side.
5.
Fosters Relaxation
Painting can be a relaxing activity that helps children reduce stress and anxiety, making our kit a great way for kids to unwind and have fun. Parents can join in too for a fun family activity!