SHARE YOUR PASSION FOR ART AND MAKE MONEY DOING IT
HOW IT WORKS
We're all about making creative experiences accessible to anyone, anywhere - even beginners who've never picked up a paintbrush.

We provide ready-to-go kits with all the supplies to create an acrylic painting: easel, canvas, brushes, paints… but our customers also need an expert guide to show them the ropes! That's where you come in.

Simply record a painting tutorial using your phone or camera, and share it with us. We'll put together a customized supply kit to go with your video, and sell it on our website. We'll handle the shipping, marketing, all that jazz. When a customer buys your kit, a share of the profit goes to you.

Want to see what our tutorials look like? Check out our sample tutorial of Starry Night by our artist partner, Jess!
VIEW TUTORIAL
WE SELL KITS, YOU MAKE MONEY
Oh yeah, and we get that for working artists, time is money. Which is why we offer a $250 advance up front when you publish your first video tutorial with us (that's how confident we are that your video tutorial will earn even more). After that, we'll send you a check every quarter based on your sales.
○ $250 cash advance once your first tutorial is accepted
○ $2 per each product sold

Our best-selling painting tutorials have earned their creators on average $1,000 in passive income in just one quarter.
WE LOVE ARTISTS
Connecting our customers with real life artists is integral to our mission and we follow through on that by paying artists. Our artists earn money every time we make a sale. The more people buy your kit, the more money you earn.
APPLY NOW
FEATURED ARTIST
"I was initially nervous as I had never taught an acrylic painting before, but recording on my phone was a lot easier than I thought it would be! I'm excited for people to enjoy my painting on their own."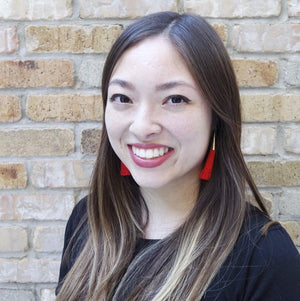 FEATURED ARTIST
"I have LOVED partnering with Painting to Gogh. As an art instructor, I'm all about helping new painters find their inner artist and grow their creative confidence - and make some sweet paintings in the process! Painting to Gogh allows people to have art-making experiences wherever they are, and I love knowing that people all over the world are painting my designs along with me!"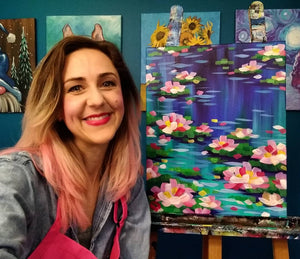 We make sure our artists make money every time someone purchases their painting. Artists' cumulative earnings are paid out quarterly via direct deposit.
We're serious about marketing our painting experiences across social media platforms, through email, and all over the internet, and we'll totally promote the tutorials you create! That's part of the deal. We'll tag you on our socials whenever we feature your paintings and we'll even create a storefront just for you to share with your followers and fans.

But hey, we absolutely encourage our artists to share your tutorials with your followers and fans as well. And any time you're promoting your tutorials, tag us and we'll totally boost your signal. Wins all around!
Our kits use a standard set of supplies, so it's important to design painting experiences with these in mind:
- 16x20 Canvas
- Palette to mix paints
- Taklon Brushes: Flat 12, Filbert 8, Bright 6, Round 6, & Round 1
- Up to six of the following acrylic colors: Chrome Yellow, Deep Yellow, Chrome Orange, Fire Red, Bright Red, Violet, Ultramarine Blue, Cobalt Blue, Pthalo Green, Green Oxide, Yellow Ochre, Burnt Sienna, Burnt Umber, Black, & Titanium White
Videos must be high resolution (at least 1080p - most phones and tablets will work) and in a horizontal format (think YouTube video, not TikTok). You'll want to make sure the lighting is bright and the audio is clean. Make sure we can hear you! A microphone isn't necessary (some of our artists use them, others don't) but your voice should be loud and clear with minimal background noise.

While we like our artists to show their faces in their videos, the painting is the star of the show, so make sure your canvas is squared with your easel and large enough to see clearly. Our production team will add an inset of the finished painting into the video for reference, so you'll need to leave enough room for that as well. For ideas on how to frame your shot, check out the sample videos by different artists on any of our product pages.
Nope! The Painting to Gogh team will handle any video edits necessary. See our Starry Night video tutorial above as an example. All you need to do is record the video tutorial and send it our way, and we'll handle all the editing.
Absolutely! We believe artists do their best work when they're doing what they love. There is no "Painting to Gogh" style of painting, so create art in your style that's on brand for you. That said, all designs must be approved by our creative team, so please send us an image of the painting before creating the tutorial. We recognize that your time is valuable, and we do our best to ensure that we don't have multiple artists working up too-similar products at the same time.
Your art is your art, and we think it should stay that way. You'll retain full rights to your designs, so you can post them on social media (we hope you will!), sell your originals, make prints, print merch, teach your designs at live in-person events. To protect our mutual interests, we do require a degree of exclusivity regarding online video tutorials and painting kit products.
READY TO GET STARTED?
1) Show us your art! Tell us a little bit about yourself using the form below.
2) We'll check out your awesome art and send you instructions for recording a sample video for a screen test, to make sure everything looks great before you record.
3) Our team will help you select or develop an original design to create a great painting experience for our customers. We'll send you an artist kit with all of our proprietary supplies and email you a set of guidelines for recording.

4) Record your video tutorial, upload it to our platform, and start earning money from your video content!
APPLY NOW