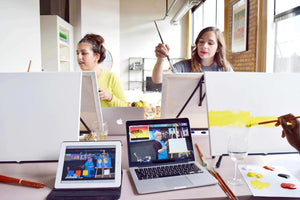 PAINTING FUN FOR THE WHOLE FAMILY
COME TOGETHER FOR A SHARED CREATIVE EXPERIENCE
We make painting fun & easy. All of our tutorials and supplies are created with beginners in mind. We offer Junior Kits (recommended age 6-12) and our Studio/Essential Kits that are meant for individuals ages 12+.
You can either do the same paintings or mix and match from our wide collection of paintings.
I'M READY TO PAINT
FAMILY FRIENDLY PAINTING OPTIONS
HOW PAINTING TO GOGH WORKS
Order Painting Kit
Select a painting from our catalog and select a kit type. Each kit meant for 1 individual. The kit includes art supplies and access to our easy to follow artist-led video tutorial.
Receive your Art Supplies
You will receive the supplies via a shipment & you will receive access to the video tutorial via email. The artist-led tutorial can be watched on a phone, tablet, laptop or any
internet-connected device any time you want.
Paint Your Masterpiece
Follow along with professional instructors and paint your masterpiece. Our on-demand tutorials make it easy to pause and rewind. Paintings typically take 1-2 hours.
FAMILIES LOVE PAINTING WITH US!
Our average rating is ★★★★★ based on 4269 reviews
★★★★★

Our family of 5 ages 8-68 had a blast painting the winter gnome. Although you don't have too, we made a day of it. We painted, had lunch and painted some more. It was really nice spending the day with family enjoying an activity that we are all (with the amazing instruction of our paint teacher) good at!

Elaine D.

Nordic Gnome
★★★★★

Spending quality time with family doing this project was everything! We had our arguments & laughs! The goal is to do another family painting day in the near future. Instructions were easy to follow.

Katherine

Cold Flippers, Warm Hearts
★★★★★

This is so much fun and so easy to follow! The instructor is amazing! We purchased for family QT. It was awesome. About to order some more. Can't wait to paint again!

J.C

Starry Night
SEE ALL 4269 REVIEWS
WHICH KIT SHOULD I ORDER?
Order one kit per painting. Table below does not show Juniors Kit ($34.99) options for kids paintings, recommended for kids between 6-12. .
STUDIO KIT
Everything you need to enjoy our best at home-painting experience.
$49.99
ESSENTIALS KIT
The essential supplies to paint at home (does not include easel).
$39.99
REFILL KIT
Just the materials, for customers who have painted with us before.
$24.99
WE'VE GOT SOMETHING FOR EVERYONE
You can pick the same paintings and all work on the same piece of art together. All paintings are made with beginners in mind!
If you've got kids between the ages of 6-12 you can mix and match between our regular adult collections and our kids collection.

SHOP NOW
7 REASONS WHY PAINTING IS BENEFICIAL FOR KIDS
Numerous articles and studies have shown why is art is beneficial for kids. We'll talk about 4 great benefits of having your kids learn to paint.
READ MORE