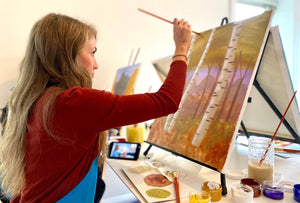 PAINTING CLASS DELIVERED TO YOUR TEAM
Perfect for remote, hybrid or in office teams
HAVE CREATIVE FUN WITH YOUR TEAM
Looking for an in-person or remote team building event? With Painting to Gogh, teams can host a virtual paint nights from the comforts of their home or office.
We'll ship the art supplies directly to your team members at home in the US, Canada, or internationally. No minimum required.
You can use can any video conferencing tool (Zoom, Webex, Teams) to paint together virtually! All our kits include access to a pre-recorded video tutorial. Alternatively, we offer a virtual live instructor as well.
We'll also take care of the order details and can provide a custom invoice for payment. All you have to do is submit the event details below or call us at 312-380-1206.
GET MORE INFORMATION
REVIEWS FROM SOME OF OUR HAPPY CUSTOMERS
Our average rating is ★★★★★ based on 4041 reviews
★★★★★

Fun & Relaxing Night for All

We had the greatest virtual happy hour event with our team using Painting ToGogh -- it was awesome! Loved how convenient it was and how it allowed our team to have a fun 'night out' from the comfort of our homes. I can't wait to do another one with my family, soon!

Kristina Z.
★★★★★

Amazing Company Event

I hosted a corporate event with 100+ people over the summer. The Painting to Gogh team made is very easy for me in shipping out all the kits to everyone's homes in a timely matter. This as the most talked about event over the summer!

Tamara R.
★★★★★

So Much Fun!

We had a company team building event with Painting to Gogh, and everyone who participated loved it! The instructor was talented and very engaging, and the company was responsive and helpful with the whole process of booking the event. Our group was very pleased with our experience. We would definitely recommend Painting to Gogh!

Dan C.
★★★★★

We had a great time!

We chose the painting project as one of our team off-site activity. It turns out that this is awesome. With the video demo, a person like me without any painting skills or prior experience could follow it step by step easily and had it done smoothly and perfectly. I strongly recommend any of you to give it a try.

Danielle P.
★★★★★

Beautiful, Accessible, Fun!

We held a team event and participating members chose their paintings and got to work. We had a great time discussing our progress and building rapport. This was an excellent exercise to get us out of our comfort zones, but also show what we are capable of. Painting to Gogh has a fantastic process and the video was very helpful!

Andrew
★★★★★

Amazing Company Event

We wanted to host a company event that was casually interactive (so not focused around booze or trivia or just chatting). It was a HUGE success with 45 attendees. It was so much fun and the Painting to Gogh team made it so easy to organize and implement.

Casper
★★★★★

The best team-building activity we've done.

Our team works remotely from different parts of the US, and it was really simple and easy to set up the purchase and send it to everybody. We all had a great time painting together, the video was super easy to follow and all the material we received was high quality. We will definitely be doing this activity again.

Laura
★★★★★

Excellent Team Building Activity

Worked with the Painting to Gogh team to setup a virtual team building painting session. They made the process easy, received and shipped all orders, and were very responsive to customer service inquiries. All materials needed were shipped and nothing felt cheap. The instructor lead video worked well, was high quality, and easy to stream. My team and I had a great time with our painting experience!

Justin
★★★★★

Great Time

The Painting to Gogh team was great to work with, sent the materials to everyone with ample time to spare, and the paint night itself was really fun! Starry Night was a good choice for the varying skill levels on our team - fairly simple yet a lot of opportunity to get creative and personalize. Also, really nice quality materials! Highly recommend.

Priya
SEE ALL 4041 REVIEWS
HOW PAINTING TO GOGH WORKS
Pick Your Painting
Let us know which painting you'd like to do. You can pick the same painting or mix and match for the group.
Receive Your Supplies
We'll ship out the supplies to all the participants. We can ship to individual addresses, offices or a hybrid of both.
Paint Your Masterpiece
Jump on a call or meet up in person and create your own masterpieces. You can follow our pre-recorded video tutorials or follow along to a virtual live instructor.
SOME OF OUR MOST POPULAR PAINTINGS
WHICH KIT SHOULD I ORDER?
Our kits include access to a pre-recorded video tutorial. Alternatively, we offer a virtual live instructor for a flat fee of $250. We do not have an order minimum. You can select any painting from our full catalog.
STUDIO KIT
Everything you need to enjoy our best at home-painting experience.
$49.99
ESSENTIALS KIT
The essential supplies to paint at home (does not include easel).
$39.99
Yes, we can ship to multiple addresses around the world.
Yes, we offer virtual live instruction for a flat rate of $250 for a 2-hour session. Alternatively, pre-recorded video tutorial access is provided as a part of our kits with no additional charge. Each participant has access for 2 years.
We recommend scheduling 1.5 - 2 hours to enjoy the experience. The length of the experience varies based on which painting you select. We also offer paintings that take ~1 hour if you are time constrained.
Yes, we ship around the world. Shipping to Canada is $20. For international shipping, let us know the countries you want to ship to and we can provide a quote.
Shipping is free if shipping to the same address. The cost of shipping to different U.S addresses is $7.99 per shipment. Shipping to Canada is $20. For international shipping, let us know the countries you want to ship to and we can provide a quote.
FILL OUT THE FORM BELOW TO GET MORE INFORMATION